The TMUC Gym is an on campus facility furnished with state-of-the-art equipment, and a professionally trained gym instructor helps students to create a fitness plan tailored to their health and requirement. Before using the gym for the first time, a student must complete a medical form, alerting the gym committee of any medical condition. The gym is accessible for TMUC students only. The gym is open for use 6 days a week between 9am till 4pm. However, access and opening times of the gym may be subject to reasonable change where necessary for operational reasons.
The Store on Campus is the one stop shop for many essentials while you're at TMUC. It's open every day of the week, all year round for your convenience. If you're looking for something to eat, you will find a wide range of groceries including chilled food, sandwiches, drinks. We also stock TMUC hoodies, phone cards, toiletries and stationary for the students.
Opening timing
Monday to Friday: 8am – 4pm
Saturday: 8am – 2pm
Free vehicle parking is available for TMUC staff, students and guests, both outside the campus premises and in a spacious basement parking lot. Visitors from other departments or external to the University will be required to request a visitor pass to park inside the campus. For disabled persons we have a ramp driveway to allow for persons on wheel chairs. Dedicated motorcycle parking facilities are available in the basement parking.
The Turkey Access Center was established at TMUC by the Ambassador of Turkey to Pakistan, his excellency Mr Babur Girgin in a colorful ceremony on 27th October 2015. Both countries share a bond that goes beyond the creation of either states with similar religious and cultural seting. The Turkey Access Center will serve as a gateway between Turkey and Pakistan for students both culturally and academically. Equipped with books on Turkish economy and culture the center provides expertise on Turkeys educational systems and its scientific and technological developments. Furthermore the Center provides counseling and assistance on internships, student exchange programs,  job and study opportunities in Turkey.
TMUC provides a top class facility for fashion and textile students to help them develop their creative skills and project exhibition. The Fashion Lab gives access to professional equipment, including industrial sewing machines, ironing stations, mannequins and cutting tables. It also comes equipped with multimedia to facilitate teachers in their lectures and students in delivering their project presentations. To honor the students creating exceptional projects are exhibited in large showcases constructed outside the lab.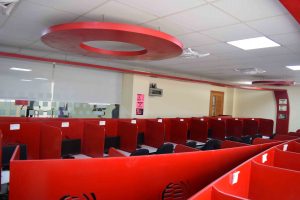 The TMUC Computer Lab provides an opportunity to students to do comprehensive research for their projects and presentations. It comes equipped with advanced infrastructure in terms of hardware and software which cater to the requirements of the students, teachers and the curriculum It has about 40 personal computers equipped with both USB Flash drives and CD-RW/DVD+-RW drives. Installed software includes Microsoft Office, Photoshop, and various media players. The lab offers personal computers, printers, and scanners for student use available during study hours. The University has a dedicated broadband Internet connection to provide browsing facility to students during study hours. Lab assistants are also available to students to resolve network, soft and hard ware issues.
There are free of charge lockers available for all students on the ground, first, second and third floors. Only one key and one locker is allocated per person. Students can acquire lockers on request from the campus administrator at the beginning of a session. Lockers are for the temporary storage of personal belongings and students are responsible for, both, its key and the contents. The university cannot be held responsible for any items that go missing or are damaged. Lockers can be checked and cleared on a periodic basis.
TMUC has contracts with national banking entities to provide automatic teller machine (ATM) services to its students, faculty, and staff.  Currently, there is one ATM available on the campus to meet the needs of the student and staff during university hours. The ATM is able to process cash transactions for anyone who has an ATM, debit, or credit card.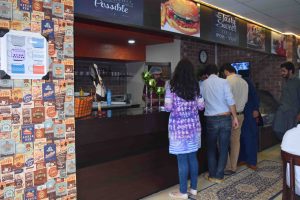 Cub Hub Restaurant is running the TMUC Café' to provide culinary excellence through their diverse menu and hygienic food, during working hours. Rock Bistro's food quality is superb, affordable and tastes delicious as well. With a built in music system the café' offers a great ambiance for the diners. It has a spacious dining area where food is served on both self service and waiting staff.
TMUC has a Tutti Frutti Frozen Yogurt outlet providing high-quality hot and cold menu, and their signature healthy frozen yogurt. The students can choose from a large variety of frozen yogurt and assorted toppings with a modern self-serve concept. Taste the Tutti Frutti difference today!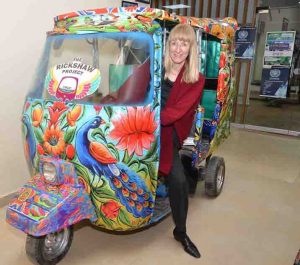 The Germany Access Center was established at TMUC by the Ambassador of Germany to Pakistan, Her Excellency Ms Ina Lepel in a colorful ceremony in January 2016. The Germany Access Center will serve as a gateway for students between Germany and Pakistan both culturally and academically. Equipped with books on german economy and culture the center provides expertise on Germany's educational systems and its scientific and technological developments. Furthermore the Center provides counseling and assistance on internships, student exchange programs, job and study opportunities in Germany.
TMUC offers a wide range of sporting and game activities including. A regular semester is saturated with various sports events such as cricket championships, indoor/outdoor football tournaments, snooker tournament, table tennis competitions etc. All these events make the student life worthwhile amid tough academic environment.
The Sports and Games society affirms that all students shall have the right to participate in every aspect of sport, without discrimination based on race, sex, nationality or creed. The TMUC sports ground is located close to the college and caters for most sports. Sports and gaming facilities include football, cricket, snooker, pool, Badminton, Volleyball, Table tennis.
TMUC offers students, faculty and staff with respective free wireless networks. A user may follow the provided instructions to set up their personal laptop or mobile device to access the campus wireless. Wireless networks are available in every on-campus location, including libraries, classrooms, café', gym and outdoor areas.
Providing international style, one to one and group counselling sessions and helping our undergrads enter the working world, are some of the key roles of the guidance counsellor here at TMUC. To discuss any personal, university lecturers/ admin, work related, educational or career progressions, book an appointment. These confidential sessions will ensure that you get the burden off your chest and that your uncertainties become clearer. Students can also pop in and discuss their matters on the dates provided. We take care of our students even after they become butterflies and fly away!
To book a session contact: counsellor@tmuc.edu.pk