ABOUT THE MILLENNIUM UNIVERSITY COLLEGE
The Millennium University College TMUC is Pakistan's first Best University in Islamabad Pakistan and largest transnational education group operating purpose built University Campuses across  major urban cities and offering International programmes and highly reputed degrees and skills qualifications at home. Recognized by the Higher Education Commission HEC of Pakistan, TMUC is an institution of higher learning dedicated to providing innovative undergraduate, postgraduate, MBA, professional, skills, accounting, innovative sciences, fashion, design, media and business education. By bringing a range of international qualifications home, TMUC aspires to be recognized as the leading University College for borderless education, committed to providing opportunities that exceed local stream of education, choices and access for the youth of Pakistan; which is the sixth largest youth cohort in the world. TMUC is currently a provider of transnational education programmes; we have articulated many collaborative, affiliated and partnership arrangements with renowned International institutions, Universities of Higher learning, Professional Bodies, Global Assessment Associations with professional and higher education portfolios. From a Foundation Diploma to a postgraduate degree or Professional Certification, there is a programme to match diverse choice groups, professional needs and career requirements.
At TMUC Pakistan our goal for every student is to graduate with an international and transformative multicultural and global competencies, whether acquired at home or abroad. In partnership with colleagues at colleges, universities and educational authorities across the globe, TMUC is a unique transnational education hub for knowledge, service, learning, innovation, practice and entrepreneurship that infuses experiential and intercultural learning by personally enriching each student's experience. The students at TMUC will undertake basic and applied knowledge with a view of revolutionizing the study of entrepreneurship, management, economics, leadership, laws, design, arts, technology, social and management sciences and many more. Hence scaling emerging models and ideas that could eventually be translated into life-long learning, innovation, education and change for national and global development, thus supporting United Nations sustainable development goals and industry marketplace. By providing an eclectic portfolio of transnational higher education qualifications, TMUC vision is to contribute in particular, Roots Millennium Schools Pakistan mission and in general Pakistan's commitment in developing the right set of skills, attitudes, knowledge, jobs, learning and values for a growing cohort of graduating millennials each year so that they can confidently meet the global challenges of the 21st century economy. The Millennium University College TMUC cater to the needs of students who seek International education but want to stay local, popularly termed as 'GloCALs' Global in Recognition; Local in Access. Hence providing the sixth largest youth pool in the world a better opportunity through academic decision making and a choice of a better degree. We offer programmes and qualifications that are globally accepted because of the high academic quality, content and assessment standards, subject relevance, academic rigor and in support of flexibility and employability.
TMUC is an initiative by Pakistan's third largest education group; The Roots Millennium Schools Pakistan; where we have been associated with teaching, curriculum, assessments and learning for nearly 30 years and are recognized globally as a center of educational excellence, learning opportunity, teaching entrepreneurship and talent discovery, We recognize the many benefits partnerships and affiliations provide, such as enriching the curriculum and choice of programmes, in terms of the widening the learner's participation and employability scope, thus facilitating entry into higher education by increasing the number of progression routes for our students. Global collaborations not only provide a diverse learning environment but also increase educational opportunity and promote a mutually supportive environment for staff and students, as well as raising for both university and partner in our education districts.
TMUC is governed by an award winning and globally celebrated advisory Council with thought, business, research and academic leaders from across the globe. The Millennium University College TMUC operates an integrated system for quality assurance and enhancement which makes an effective contribution to the achievement of our strategic Plan; which underpins the academic planning process. The ultimate aim, underpinning our vision, is our commitment to create the best possible student experience. Such a system is sufficiently robust to safeguard the standards of the academic awards and regulatory regime in Pakistan and clearly articulate with the UK Quality assurance code for higher education and in the regulatory eco-system of the countries we serve. TMUC understands the importance of keeping abreast of external developments and best practices in higher education and sees this as part of being a self-critical academic community which evaluates and enhances its quality assurance procedures to encourage that culture. The maintenance and enhancement of the academic standards of the institution depend foremost on the commitment of all our staff continually to evaluate and reflect on the quality of the educational experiences provided for students.
TMUC has well-established, comprehensive and rigorous arrangements for the approvals, accreditations, assessments, reviews, teaching delivery, training, modification and annual monitoring of its academic provisions. These arrangements for quality management and enhancement are built upon three decades of our classroom experience and reflection.  TMUC has been subject to external audits, quality assurance as well as scrutiny from a wide range of professional boards, examination bodies and statutory regulatory regimes.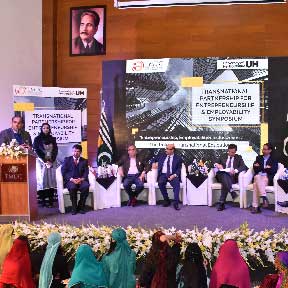 TMUC organises transnational partnership for entrepreneurship & employability symposium
Islamabad: The Millennium University College ...
LEARN MORE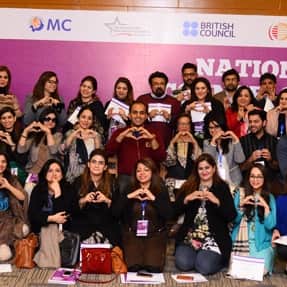 Millennium Campus organisses National Counsellors Colloquium
The National Counsellors Colloquium (NCC) ...
LEARN MORE